The most popular day tour in Iceland.
The tour links some of the country's most impressive natural attractions, such as Gullfoss, Geysir and Thingvellir in one day.
The attractions we will visit
This first stop is usually Thingvellir National park, which is an interesting place both from a geological point, but also historically. Geology is very special as Thingvellir is situated on the tectonic plate boundaries. You literally see how the two tectonic plates separate North America and Europe. The fissures have been moving apart at the rate of 2 centimeters every year which gives the fissure spectacular appearance. Here you will also see the amazing clear glacier water which can be found in some fissures which opened in a earthquake in the year 1789. Thingvellir is UNESCO World Heritage Site.
Historically, the world first parliament was founded there in the year 930 AD, also known as "Althing". Althingi General Assembly continued to convene there until 1798 when it was moved to Reykjavik. In the eyes of Icelanders this place is a national shrine and is protected area by law since 1928.
We will visit the most beautiful Waterfall in Iceland named Gullfoss (translated Golden waterfall). From Gullfoss we will go to the bubbling geothermal hot springs at Geysir area. You will see the hot spring Strokkur spouting hot water 30 meters (100ft) into the air every 5-10 minutes interval.
The last stop before heading to Reykjavik is Kerid a volcanic crater. This vibrant blue gem erupted some 6 thousand years ago.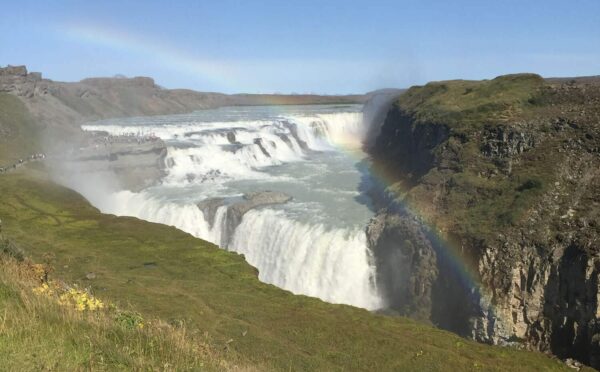 Additional information
You may choose other setup of this day tour, or you may ask us to tailor make your experience based on your preferences:
Such as a visit to the greenhouse at Fridheimar, the famous tomato farm and restaurant, or you may choose to visit and bath in the Secret lagoon. or Fontana Spa at Laugarvatn
Combine two day tours into one long day, by adding a South Coast tour (ask for offer)
Click here to see the tour location and standard route on a map