We will be travelling along the south coast of Iceland to the final destination Skaftafell National Park. The area is a Nature Reserve since the year 1967. On the way from Reykjavík, and before reaching the destination, then we will stop to see some of Iceland most beautiful natural scenery on the south coast. Waterfalls such as Seljalandsfoss and Skógafoss, or choose to stop at the Black sand beach (Reynisfjara).  In Skaftafell we will see the spectacular view of the outlet glaciers.  Glaciers in Iceland are among the greatest natural wonder in the world. Total of 11% of the land area in Iceland are covered by ice caps.  The biggest glaciers are Vatnajökull, Langjökull, Höfsjökull and Mýrdalsjökull. Glacier forms only in places where fresh snow never fully melts, up on mountains or in the highland. It gradually compresses into ice under its own weight.  A process which takes centuries. Outlet glacier are like a frozen river which slowly moves forward towards the edges, down hills towards the lowland.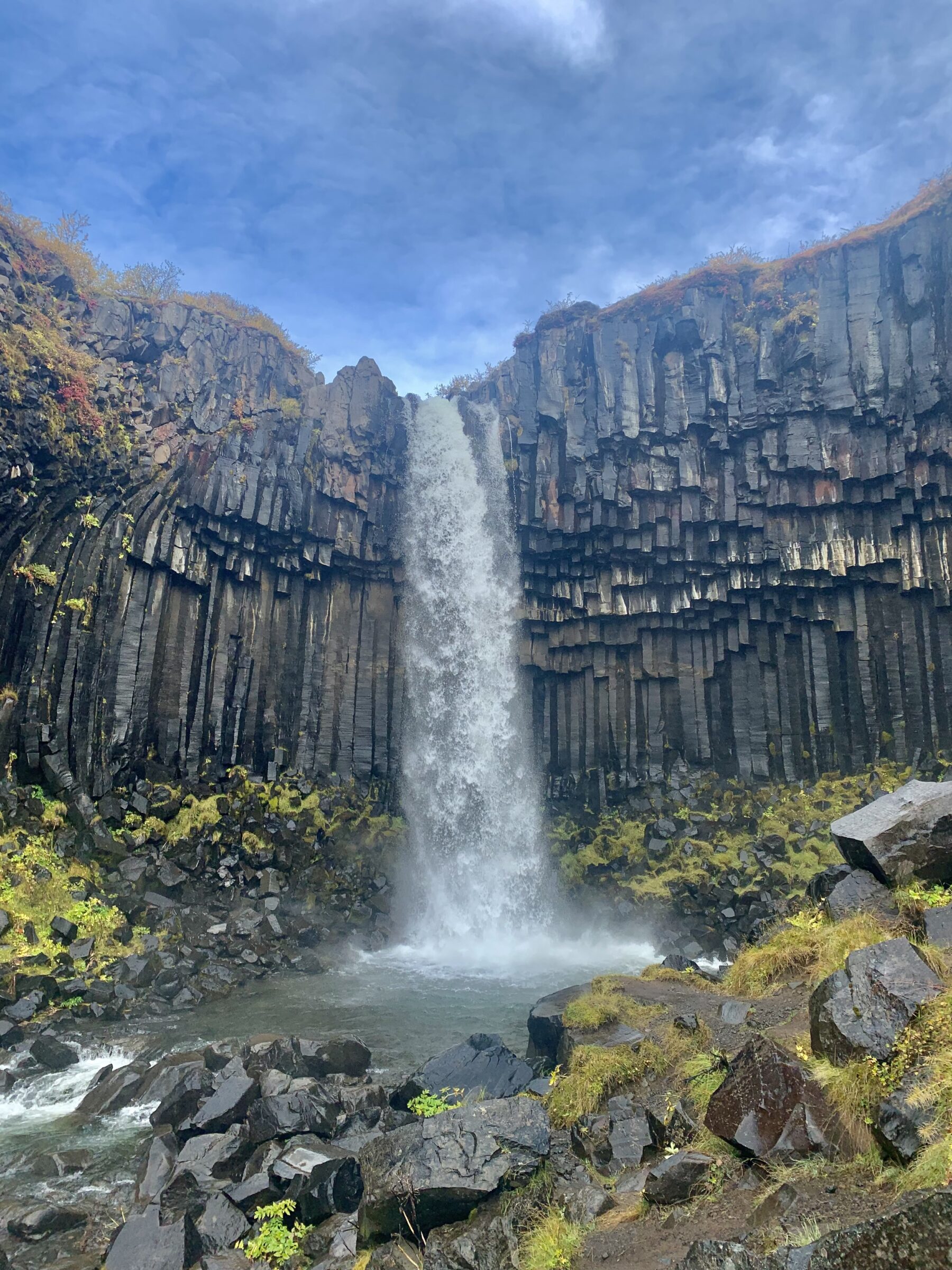 Skaftafell is a kind of a pearl or a natural wonder in between the biggest outlet glacier in Iceland. In Skaftafell we can take a short and easy hiking tour. We propose two hiking options, one to a waterfall named Svartifoss (moderate) and the other one flat and easy hiking trail toward the outlet glacier Skaftafellsjökull.
Svartifoss: One of the two option is a 45-minute hiking tour, (each way) which is one of the most beautiful waterfall in Iceland. The waterfall is perhaps not the biggest in Iceland, but its surroundings are spectacular. Located in front of basalt columns, makes this place special.
Skaftafellsjökull: the other two options are short hiking tour to see the spectacular glacier close up.
Another outlet glacier, Svinafellsjökull is close by. It was chosen as an ideal location for film settings, such as in Batman begins, James Bond, "Die another day" and the TV series of Games of thrones (Season 7). Others, less famous movies which have been filmed there, are Kung Fu Yoga with Jackie Chan and "Interstellar" as the Ice Planet.